Teachers
  Sandy Weiss

Having practiced for more than 18 years, I decided to formally study alignment based Hatha yoga at the Esther Vexler Yoga School where I received my teaching certificate in 2009. I am continuing to study classical Astanga yoga with Beryl Bender Birch and received my 500 hour certificate from the Hard and Soft Institute in October 2014. I have trained extensively with Nydia Darby, a physical therapist, and Esther Vexler, the grandmother of yoga in San Antonio. These two mentors taught me a functional approach to yoga, one where any body is capable of yoga. I have also been studying with Todd Norian, founder of Ashaya Yoga, where I am learning from a place of open-hearted Tantric philosophy.
I can help you learn how to use your breath, maintain your strength, gain mobility and relax your body. Most importantly, you can learn how to pay attention and bring your life back to balance.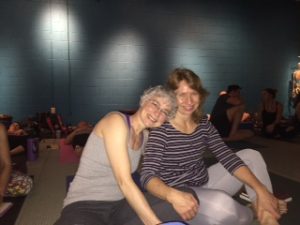 Vicky graduated Esther Vexler Yoga School in 2009.  She mentored under Nydia Darby and taught various yoga classes in  upstate New York.  She is currently studying under Thomas Meyers of Anatomy Trains.  Enjoy classes with Vicky as she brings you through class with a sense of humor and attention to alignment and breath!